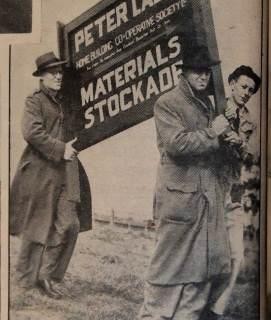 PERSONAL HISTORIES
The Peter Lalor Housing Cooperative
The precinct is a post-war residential area in Lalor and contains houses constructed as part of the Peter Lalor Home Building Co-operative Society in the 1940s and 1950s.
A group of passionate people responded to the housing crisis by forming the housing co-operative. Using modernist building techniques, such as prefabrication, members built homes for a community of 800 people, establishing the suburb of Lalor. Named after the leader of the Eureka Rebellion, the Peter Lalor Homebuilding Co-operative Society was a grassroots organisation established to help its members realise the great Australian dream of home ownership.
The first house built by the Peter Lalor Housing Coop. was 400 Station St, Lalor.  Stan Spencer was the first name drawn in the ballot.
Moira Scollay traces the history of Lalor to the present day, introducing us to the residents that shaped this unique Melbourne suburb: home by home, family by family, street by street.
Her book, Lalor, The Peter Lalor Home Building Co-operative 1946 – 2012 is available for borrowing from Yarra Plenty Regional Library.
Lalor was previously a part of Thomastown.
In 2010, Stockade Park was redeveloped. This site, enclosed by Paschke Crescent and leading to Rochdale Square, marks the location of the Peter Lalor home building co-operative's Stockade—an area that housed the tools and materials for the workers of the Co-operative that built Lalor.
Many Streets in Lalor were named by the Peter Lalor Home Building Co-operative Society after prominent civilian and military figures.
Streets named after Australian Victoria Cross Recipients are: Howell Street, Kenna Drive, Mackey Street,Maxwell Street, Middleton Street, NewtonCrescent, Partridge Street, Ruthven Crescent, French Street, Derrick Street, Gratwick Street, Chowne Street,  Edmondson Street, Station Street and Evan street.